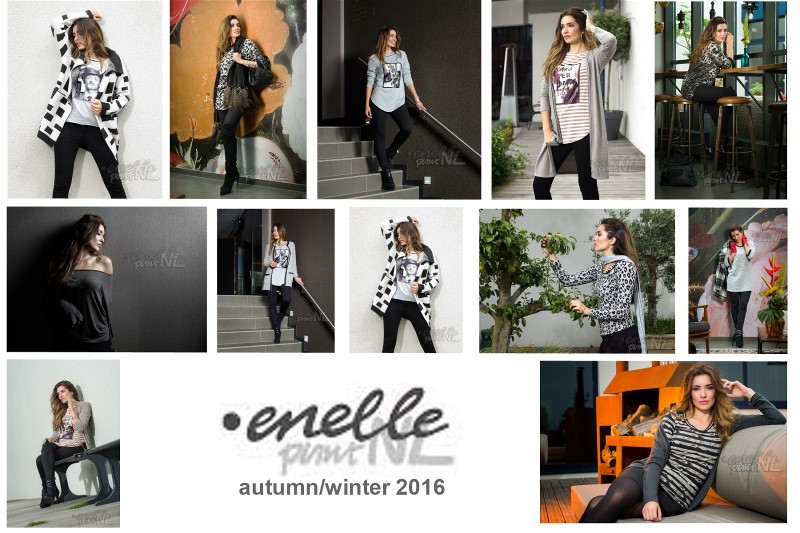 INTRODUCTION
The brand Enelle was initiated by the Zantman Modegroep, owned by Frans Zantman. The Zantman Modegroep was established in 1973 and due to the group's experience and expertise, the brand Enelle has grown rapidly.
The Zantman Modegroep is a women's fashion wholesaling group producing and distributing several womens's brands to fashion retailers in the Netherlands, Belgium, Luxembourg,  Germany, Austria and Switzerland.
The Enelle brand is affordable and moves between casual and jeansrelated concept with a touch of femininety. It is segmentated in the lower part of the middle segment of the fashion industry. Enelle's targeted customers are ageless women who dress in a portrayed flair of sexy nonchalance; when age is an issue, then the average lies between 25 – 50 years old; women who are willing to spend more money on quality and outstanding design.
The Enelle style can be described as feminine yet casual, with originality being it's key selling point. The fabrics used are mainly jerseys and special wovens with elasthan. Enelle has a sizerange from XS to XL – thus covering a large part of the European female  population.
Main part of the production is located in China; rest of about 15%  is being produced in Ukraine and Turkey.
MARKET ANALYSIS
Today's fashion market  is characterized by short life cycles, high demand volatility, low predictability, impulsive buying behaviour and therefore has high product variety.  Furthermore, inventory has become a liability instead of an asset, since the market changed from being pushed by it's producers to being pulled by the customers.  To understand, produce to and meet the customers demand on time, is found to be the best  way to adapt to today's fashion market. This proves to be the success of Enelle.
USPs
Enelle creates differentiation by means of:
Selling through offline retail in boutiques and shops in the shops
All collections show a high variety in styles
Offering retailers more than 6 different deliveries in short term collections to cover the whole season with new hot items